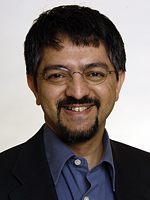 Principal Investigator
Centre for Addiction and Mental Health
Peter Selby is the Clinical Director of the Addictions Program and Head of the Nicotine Dependence Clinic at the Centre for Addiction and Mental Health as well as Professor in the Departments of Family and Community Medicine, Psychiatry and the Dalla Lana School of Public Health at the University of Toronto.
Dr. Selby received his Bachelor of Medicine from Bombay University, Bombay, India, and completed his family medicine residency and a Master of Health Sciences in Family Medicine and Community Health, at the University of Toronto.
Dr. Selby practices addiction medicine with a special focus on nicotine dependence. His areas of research include smoking cessation in special populations such as those with co-morbid mental health and addictive disorders, the use of pharmacotherapy, harm reduction, and web-based interventions.
Competing Interest Statement
Dr. Selby has no relationship with the tobacco industry. He has received funds from Schering Canada to provide buprenorphine training (2000). He has acted as a paid consultant for Johnson and Johnson Consumer Health Care Canada; Pfizer Inc. Canada; Pfizer Global; Sanofi-Synthelabo, Canada; GlaxoSmithKline, Canada; Genpharm and Prepharm Canada; NABI Pharmaceuticals: V-CC Systems Inc. & EHealth Bahaviour Change Software Co.; and Schering Canada.
He has also received honoraria or been part of a speakers bureau for Schering Canada; Johnson and Johnson Consumer Health Care, Canada, Pfizer Inc. Canada; Pfizer Global; Sanofi-Synthelabo Canada; Glaxo Smith Kine Canada; Genpharm & Premfarm Canada and NABI Pharmaceuticals.
His grant funding has come from Health Canada, Smoke-Free Ontario, Ministry of Health Promotion and Sport, Canadian Tobacco Control Research Initiative (CTCRI), Alberta Health Services (formerly Alberta Cancer Board), Vancouver Coastal Authority, Canadian Institutes of Health Research (CIHR), Pfizer, Ontario Lung Association (OLA), ECHO, National Institute on Drug Abuse (NIDA), and Canadian Cancer Society (CCS).
Selected Publications
Selby P, Brosky G, Oh PI, Raymond V, Ranger S. How pragmatic or explanatory is the randomized, controlled trial? The application and enhancement of the PRECIS tool to the evaluation of a smoking cessation trial. BMC Medical Research Methodology 2012 Jul; 12 (1): 101.
Van Mierlo T, Voci S, Lee S, Fournier R, Selby P. Superusers in social networks for smoking cessation: analysis of demographic characteristics and posting behaviour from the Canadian Cancer Society's Smokers' Helpline Online and StopSmokingCenter.net. Journal of Medical Internet Research 2012 (Jun); 14 93): e66.
Herie M, Connolly H, Voci S, Dragonetti R, Selby P. Changing practitioner behaviour and building capacity in tobacco cessation treatment: The TEACH project. Patient Education and Counseling 2012 Jan; 86 (1): 49-56.
Costello MJ, Sproule B, Victor JC, LEatherdale ST, Zawertailo L, Selby P. Effectiveness of pharmacist counselling combined with nicotine replacement therapy: a pragmatic randomized trial with 6,987 smokers. Cancer Causes & Control 2011 Feb; 22 (2): 167-80.
Selby P, Voci SC, Zawertailo LA, George TP, Brands B. Individualized smoking cessation treatment in an outpatient setting: predictors of outcome in a sample with psychiatric and addictions co-morbidity. Addictive Behaviors 2010 Sep; 35 (9): 811-7.