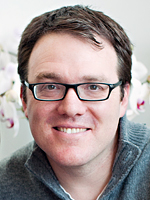 Project Lead
University of Toronto
155 College Street
Toronto, ON
M5T 3M7
Phone: (416) 978-7096
Fax: (416) 946-0340
Dr. Michael Chaiton is a Scientist at the Ontario Tobacco Research Unit and Assistant Professor at the Dalla Lana School of Public Health, University of Toronto. University of Toronto. He has a PhD in Epidemiology from the University of Toronto. He has been active in tobacco control since 2000 when he started working for Physicians for a Smoke-Free Canada and the International Non-Governmental Coalition against Tobacco. He is interested broadly in tobacco research and is the co-instructor of the graduate level course Tobacco and Health: From Cells to Society. His work involves understanding the impact of policy on smoking cessation and the development of tobacco related co-morbidities.Michael is Co-Head of the Population Research Initiative in Mental Health and Addictions (PRIMHA) at the Ontario Tobacco Research Unit.
Current and Recent Projects
Selected Publications
Chaiton M, Diemert L, Cohen J E, Bondy S J, Selby P., Philipneri, A., & Schwartz, R. (2016). Estimating the number of quit attempts it takes to quit smoking successfully in a longitudinal cohort of smokers. BMJ Open 6(6), e011045.
Chaiton M, Diemert L, Zhang B, Kennedy RD, Cohen JE, Bondy SJ, Ferrence R. Exposure to smoking on patios and quitting: a population representative longitudinal cohort study. Tobacco Control 2016 Jan 1;25(1):83-8.
Chaiton M, Cohen JE, Bondy SJ, Selby P, Brown KS, Ferrence R, Garcia JM. Perceived addiction as a predictor of smoking cessation among occasional smokers. Journal of Smoking Cessation 2016 Jan 21:1-8.
Kirst M, Kolar K, Chaiton M, Schwartz R, Emerson B, Hyshka E, Jesseman R, Lucas P, Solomon R, Thomas G. A common public health-oriented policy framework for cannabis, alcohol and tobacco in Canada? Canadian Journal of Public Health 2015 Nov 1;106(8):E474.