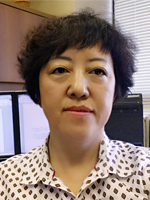 Research Officer
Dalla Lana School of Public Health
155 College Street
Toronto, ON
M5T 3M7
Phone: (416) 978-6931
Fax: (416) 946-0340
Bo Zhang received her MPH from the University of Adelaide, Australia and PhD in Epidemiology from the Dalla Lana School of Public Health, University of Toronto. She became a research officer at the Ontario Tobacco Research Unit in 2001 and has been involved in tobacco control research for over 10 years.
Trained in epidemiology, Bo's research interests focus on the epidemiology of tobacco use, the impact of tobacco policy on health, and the role of tobacco in mortality and morbidity. Her current research interests include electronic cigarettes, menthol cigarettes, cigarette consumption trajectories among adult smokers, tobacco surveys and surveillance, and modeling tobacco control strategies and interventions.
Current and Recent Projects
Evaluation Guidance & Support to YATI
Modeling Intervention and Strategy Effects
Ontario Tobacco Survey Analysis
Research on Electronic Cigarettes
Evaluation of Ontario's Menthol Cigarette Ban
Selected Publications
Zhang B, Chaiton MO, Diemert LM, Bondy SJ, Brown KS Ferrence R. Health professional advice, use of medications and smoking cessation: a population-based prospective cohort study. Preventive Medicine 2016;19:117-22
Zhang B, Haji F, Kaufman P, Muir S, Ferrence R. "Enter at your own risk": a multi-method study of air quality and biomarkers in Canadian waterpipe cafes. Tobacco Control 2015;14(2):175-81.
Zhang B, Cohen JE, Bondy SJ, Selby P. Use duration of nicotine replacement therapy and smoking cessation: A population-based longitudinal study. American Journal of Epidemiology 2015;181(7):513-20.
Zhang B, Cohen J, O'Connor S. The Priority Group Index: a proposed new method incorporating high risk and population burden to identify target populations for public health interventions. Journal of Public Health Management and Practice 2014;20(5):E1-11.
Zhang B, Bondy S, Chiavetta JA, Selby P, Ferrence R. The impact of Ontario smoke-free legislation on secondhand smoke in enclosed public places. Journal of Occupational and Environmental Hygiene 2010 Mar;7(3):133-43.