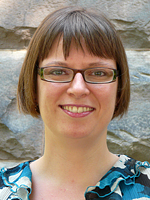 Research Officer
Dalla Lana School of Public Health
155 College Street
Toronto, ON
M5T 3M7
Phone: (416) 978-3051
Fax: (416) 946-0340
Jolene Dubray obtained her MSc in Community Health and Epidemiology from Dalhousie University. She has been a Research Officer at the Ontario Tobacco Research Unit since 2005.
At OTRU Jolene has coordinated several evaluations related to the implementation and enforcement of provincial and local smoke-free policies; written content and provided statistical support to Strategy Monitoring Reports; supported several OTRU's Knowledge and Evaluation Support projects; and, conducted assessments of the level of smoking cessation services provided by Ontario's hospitals, dental health professionals and health care professionals. She has also managed research studies related to the effectiveness of MPOWER measures on smoking prevalence, and patterns of cigarillo use among young adults.
Current and Recent Projects
New Measures Monitoring and Evaluation
Strategy Evaluation
Knowledge and Evaluation Support
Evaluation of the Registered Nurses' Association of Ontario Nursing Best Practice Smoking Cessation Initiative
Evaluation of the City of Toronto amended smoke-free bylaws
Selected Publications
Dubray J, Schwartz R, Kaufman P. Evaluation of the Amended Toronto Smoke-Free Bylaws: Summary of the Baseline and Follow-up Assessments. Toronto: Ontario Tobacco Research Unit, July 2016.
Dubray J, Schwartz R, Chaiton M, O'Connor S, Cohen JE. The effect of MPOWER on smoking prevalence. Tobacco Control. Published Online First: 9 December 9. doi:10.1136/tobaccocontrol-2014-051834
Yates EA, Dubray J, Schwartz R, Kirst M, Lacombe-Duncan A, Suwal J, Hatcher J. Patterns of cigarillo use among Canadian young adults in two urban settings. Canadian Journal of Public Health 2014;105(1):e11-e14.
Dubray J, Kirst M, Yates E, Schwartz R. Evaluation of the Risk-Based Enforcement Pilot: A Risk Categorization Model for Youth Access to Tobacco, Interim Report. Toronto: Ontario Tobacco Research Unit, June 2013.
Schwartz R, Dubray J, Philipneri A, Chaiton M, O'Connor S. Evidence for Developing and Implementing Cessation Services. In: Disease Interrupted: Tobacco Reduction and Cessation. Els C, Kunyk D, Selby P (Eds.). Lexington, KY: CreateSpace Independent Publishing Platform, 2012: 41-58.