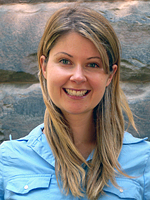 Research Officer
Dalla Lana School of Public Health
155 College Street
Toronto, ON
M5T 3M7
Phone: (416) 978-8306
Fax: (416) 946-0340
Tracey Borland has been a Research Officer with OTRU since 2009. With an MSc in International Public Health Policy (Health Inequalities) from the University of Edinburgh, her interests include: health equity and commercial tobacco use; global health governance; community-based research and qualitative methods. In her MSc year, Tracey received The Mackay Tobacco Control Research Fund Scholarship for her research on the perceived impact of raising the minimum age of cigarette purchase on young people in Scotland. Tracey's work with OTRU has focused on youth smoking prevention and commercial tobacco reduction for pregnant and recently pregnant women; construction and manufacturing employees; and First Nations, Inuit and Métis communities.
Current and Recent Projects
Evaluation and Monitoring of Ontario's New Smoking and Vaping Policy Measures
Evaluation of Ontario's Menthol Ban
Evaluation of the Youth Advocacy Training Institute
Evaluation of the Not-on-Tobacco Program Pilots
Development of Health Information Messages for Tobacco Product Packaging
Knowledge and Evaluation Support
RETRAC: Research on Commercial Tobacco Reduction in Aboriginal Communities
Selected Publications
Borland T, Schwartz R, Wilson J, Maddox R, Firestone M, Smylie J. (2016). RETRAC: Sharing Experiences and Knowledge Synthesis Update. Project News. Toronto: Ontario Tobacco Research Unit, March 2016
Kaufman P, Borland T, Luk R, Taylor E, Lambraki I, Bondy S, Schwartz R. Workplace-Based Cessation Demonstration Projects Evaluation-Final Report. Toronto: Ontario Tobacco Research Unit, June, 2015.
Kirst M, Mecredy G, Borland T, Chaiton, M. Predictors of substance use among young adults transitioning away from high school: A narrative review. Substance Use & Misuse 2014 49(13):1795-1807.
Borland T, Babayan A, Keller-Olaman S, Kirst M, Albagli A, Schwartz R. Evaluation of Community-based Smoking Cessation Demonstration Projects for Pregnant and Recently Pregnant Women. Toronto, ON: Ontario Tobacco Research Unit, 2013. For Limited Distribution November 2014.
Borland T, Babayan A, Irfan S, Schwartz R. Exploring the adequacy of smoking cessation support for pregnant and postpartum women. BMC Public Health 2013 May 14;13(1):472.
Kirst M, Borland T, Haji, F and Schwartz R. Formative Evaluation of the Public Health Unit Youth Engagement Initiative–Brief Report. Toronto, ON: Ontario Tobacco Research Unit. September 2012, updated March 2013.