OTRU evidence-based publications serve a variety of information needs:
The most recent OTRU publications are listed below.
You can find our publications by browsing All OTRU Publications (by year/type of report) or by choosing options on the righthand sidebar: search by type of publication, or search by topic area. Choosing one of these options will display a list of all relevant publications.
Project Newsletter: November 2018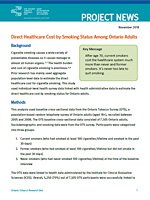 Direct Healthcare Cost by Smoking Status Among Ontario Adults
Authors: Bo Zhang, Michael Chaiton, Jolene Dubray, Robert Schwartz
Date: November 2018
Using Ontario Tobacco Survey data (a representative sample of Ontario adults) linked with health administrative data from the Institute for Clinical Evaluative Sciences, we found a significant interaction effect between age and smoking status on direct healthcare costs. Current smokers cost the healthcare system much more than never and former smokers after the age of 70. Findings from this study suggest that quitting, even at advanced ages, can help reduce healthcare costs. Read more…
Other Recent Publications
Youth and Young Adult Vaping in Canada
As part of the Health System Research Fund, OTRU's Research on E-Cigarettes and Waterpipe (RECIG-WP) grant has established a Youth and Young Adult Panel Study to help understand what happens over time to young people who vape. Read more…