OTRU evidence-based publications serve a variety of information needs:
The most recent OTRU publications are listed below.
You can find our publications by browsing All OTRU Publications (by year/type of report) or by choosing options on the righthand sidebar: search by type of publication, or search by topic area. Choosing one of these options will display a list of all relevant publications.
Special Report: October 2017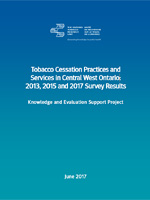 Tobacco Cessation Practices and Services in Central West Ontario

Authors: OTRU
Date: October 2017
Tobacco cessation interventions by healthcare providers have been shown to significantly increase cessation rates. Three surveys were conducted in 2013, 2015 and 2017 to explore the state of tobacco cessation practices and services in the Central West Tobacco Control Area Network region. Key survey findings suggest that public health and healthcare organizations increased their capacity to provide smoking cessation and integrated evidence-based cessation approaches, such as the 5As (Ask, Advise, Assess, Assist, Arrange) into daily practice. Future efforts to address barriers and areas with little or no progress would facilitate additional system-level and organizational changes and adoption of evidence-based tobacco cessation interventions.
Other Recent Publications
Health Insurance Coverage and Smoking Cessation
This brief Project News update on health insurance coverage and smoking cessation treatments presents the effectiveness of insurance coverage, factors affecting the adoption of insurance coverage by employers, and insurance coverage for smoking cessation treatments in Ontario. Read more…
OTRU Knowledge and Evaluation Support Newsletter (September 2017)
This Knowledge and Evaluation Support newsletter highlights two projects – the Niagara Pharmacy Quit Smoking Pilot Program and the Youth Tobacco Prevention with Dental Professionals. The findings from these two studies are expected to be used to inform future regional cessation and youth tobacco prevention programming. Read more…