OTRU evidence-based publications serve a variety of information needs:
The most recent OTRU publications are listed below.
You can find our publications by browsing All OTRU Publications (by year/type of report) or by choosing options on the righthand sidebar: search by type of publication, or search by topic area. Choosing one of these options will display a list of all relevant publications.
OTRU Update: March 2017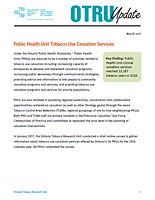 Public Health Unit Tobacco Use Cessation Services
Authors: Jolene Dubray, Shawn O'Connor
Date: March 2017
This Update provides a summary of the tobacco use cessation services provided at the local-level by all 36 Public Health Units across Ontario for the 2016 calendar year. Read more…
Other Recent Publications
Nicotine: How Does it Affect Health?
Of the more than 4000 chemicals in tobacco smoke, nicotine is one of the most widely assessed. Nicotine has been identified as the primary substance in tobacco that causes addiction and, as such, the main substance driving use of tobacco products. Read more…
Heat-Not-Burn Tobacco Products: Claims and Science
Philip Morris International says that it will be marketing a new product called iQOS in Ontario. iQOS uses a special device to heat the tobacco to release an aerosol vapour that is inhaled by the smoker. The industry has argued that this type of device reduces the delivery of many chemicals in tobacco smoke but previous versions of this class of products have not been found to be acceptable. Read more…